4-1-2000

OMG, we are in shock, to think that our adh-hh fellow members have once again voted on our site to let us win this awesome award.

Is this an April Fool's Joke???

Personally, we are thrilled to pieces to think that we could have come this far..

Thanks to all of you, we are so very proud to receive a second award...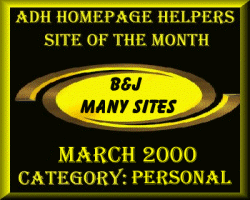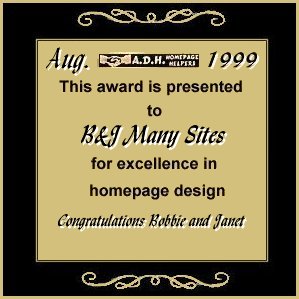 PRESENTED TO:
B & J'S MANY SITES
ON 8-1-1999
CREATED BY:


BOBBIE & JANET

After only being on the Web for one year, I feel so honored. Everything I have learned was from this group.

Then, I met Janet. Together it seems we are 2 halves of one coin. That is what makes B & J Many Sites.

I thank you and with tears in my eyes, I also thank Janet. Who with out her this site would never have been possible.
I can't begin to put into words how I felt when I got the letter saying that WE had won. We may be two halves of a coin but, Bobbie is the head and I am the tail.
I feel so honored that our fellow members of ADH-HH think we are deserving of this beautiful award. It is accepted with much
"PRIDE" & "JOY"
I must say, I let out a shout and dropped a tear or two. Thank you Bobbie for being the "B" of B & J. Without you, WE wouldn't be here now.



B & J'S MANY SITES